we are honored to partake in tinkerlab's one year anniversary cardboard box challenge, alongside so many amazing bloggers! when presented with this challenge, i wondered how we could incorporate two things that N is naturally curious about exploring right now: illustrating (like a fiend!) and butterflies. i like to go with the flow…
with mother's day coming up, my own uber-creative mom is on my mind a lot… and this blog is purely an homage to her. i decided to attempt to replicate a "visual aid" my mom created with me for science class when i was in about third grade. a perfect marriage of cardboard, drawing, butterflies, and celebrating MOM!
first, this crunchy boho-chic (um, pretty please?) momma got a new pair of birkenstocks (long overdue! sigh – but not so chic.) the box they came in seemed perfect for the challenge. i used an x-acto knife to cut a little window in the top of the lid to serve as our "screen" for the story to show through. then i sliced Xs across from each other in the top sides and bottom sides of the box, which is where our dowels (cardboard tubes) would go. that was the grown-up part of the project.
next, N chose turquoise acrylic paint to cover the box, and used a small paint roller to paint the entire box. then she picked plum purple paint to paint the dowels. i remember that the version my mom and i made in the 80s was wrapped in fabulous hot pink butterfly wrapping paper, but we opted for paint so we could open & close the box afterwards.
while the box was drying, we cut a long thin strip of white scroll paper (from the roll of paper that goes on her easel.) we discussed the life cycle of a butterfly, which is currently what N is learning in preschool. on monday of this week, they watched the butterflies emerge from the chrysalis with wet wings and fly away. she is fascinated to say the least!
N named 4 stages of the butterfly: egg, caterpillar, chrysalis or pupa, and butterfly. as you see above, i drew boxes vertically along the scroll of paper for each stage, and two extra – for a title page and ending page. N is a sucker for puns, and got a great idea to draw a butterfly dancing on a stage for her title page: "stages of a butterfly"
she then got busy illustrating each of the phases in the cycle.
and was quite proud.
after the box was dry, N added many different butterfly stickers to its surface.
we opened the lid and used packaging tape to tape the top of the scroll to the top dowel and the bottom to the bottom dowel. (i love that this box has a hinged lid so that we can open and close it to perhaps insert different "stories" later!)
once the story box was complete, N was sooo excited about it! "we made a TV!" she exclaimed. i'll let her give you the little tour through her story, winding the dowels at the top and bottom to crank the scroll through the images…
the four stages – images spliced together
ta da!
thank you to rachelle at tinkerlab for this challenge and for one year of your oh-so-inspiring blogs! and huge gratitude to my amazing mom for your contagious creative spirit and igniting my passion for self-expression! i hope i can do the same for my daughter.
happy mothers' day weekend, mommas!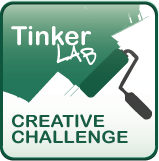 wanna see more cardboard creations?

05.06
2011
printer friendly